KUNDALINI CAMPOUT
AN OVERNIGHT KUNDALINI EXPERIENCE IN JOSHUA TREE HOSTED BY SOPURKH, JIWAN DEV, AND PRITAM DHYAN
Raw vegan food made with love by Dawna of Under the Sun
OCTOBER 26TH & 27TH 2019
HUMANOLOGY. TECHNOLOGY FOR AQUARIAN LEADERS.
In sacred gathering, we come together to deepen our practice and understanding of ourselves. Experience kundalini mantra, pranayam and meditation for a neutral mind and conscious creating. Build a foundation for group and personal sadhana through self-reflection and contemplative interaction circles. We hold the space. We listen. We build our sensitivity and awareness of our highest human potential through multi-sensory communication and experiences that facilitate our collective expansion into higher dimensional consciousness. We emerge with courage and radiance as true leaders of the Aquarian Age.
Come ALIGN. Come stabilize your frequency of compassion, kindness, grace, and love.
Heather Turner's (Pritam Dhyan) transformational journey began upon her arrival to Southern California from New Orleans In 2002. After exploring many disciplines of yoga, it took one single Kundalini Yoga class to know that this would be her modality for change. Through this powerful practice her soul's path became clear, and in 2015 that path carried her to Rishikesh, India. This is where she completed the Level 1 Teacher Training certification with master teachers Gurmukh and Gurushabd. As an artist and teacher, Heather believes in inspiring change and supporting other's through their own personal transformations.
In 2018, Heather birthed her son Solin and eco-conscious clothing brand Aumni Apparel; continuing to focus on her mission Heather is devoted to styling others from the inside out.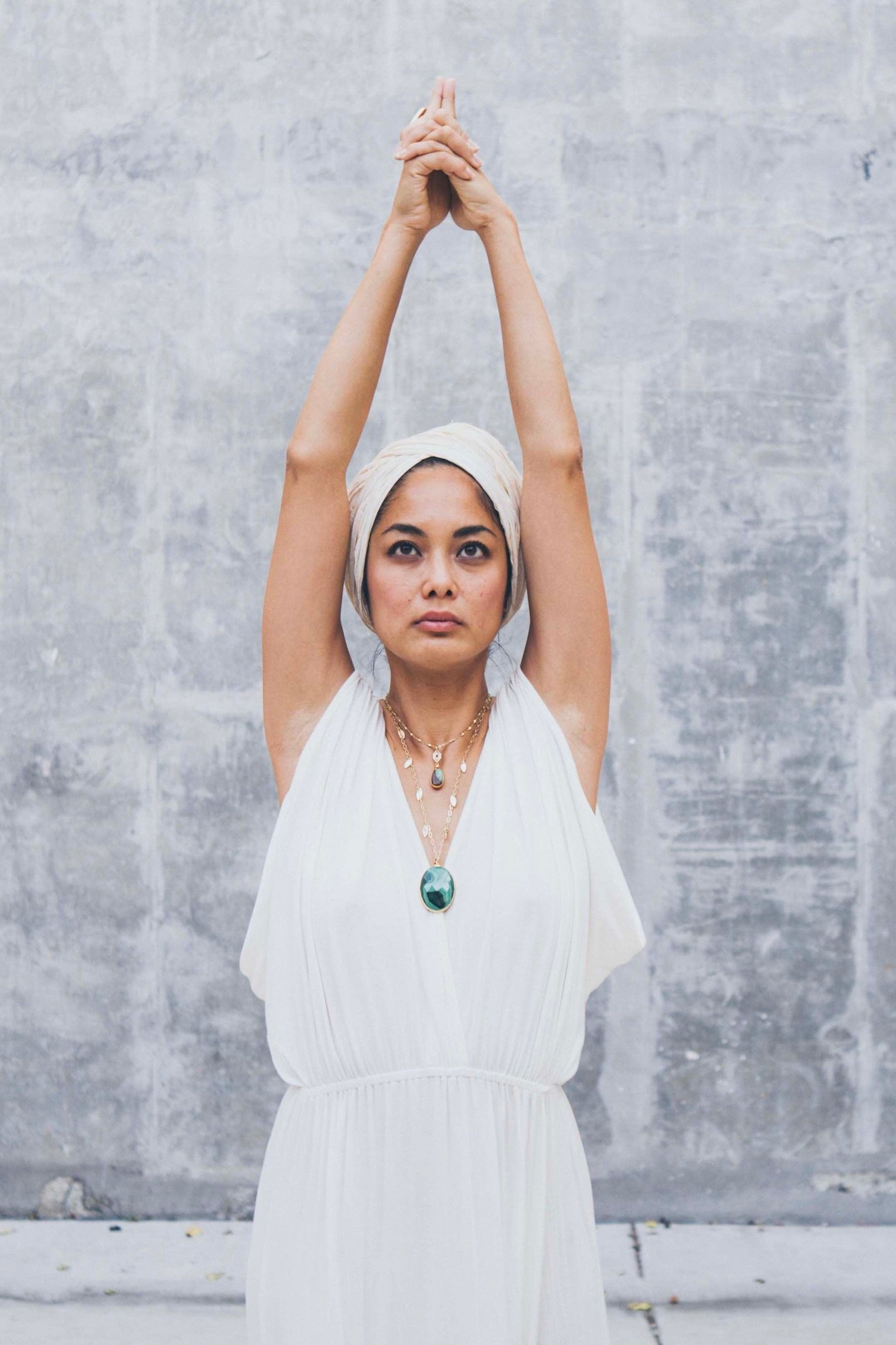 Jiwan Dev utilizes kundalini yoga to push the boundaries on everyday living by raising consciousness on interactions when it comes to work, relationships, and everyday living. She believes radical truth will set our society free and lead us down the path of divine community and love. She first found kundalini yoga in 2003 at Golden Bridge in Hollywood, and completed the KRI 200-hour teacher training at Golden Bridge in New York under the guidance of Gurmukh and Gurushabd in 2016. Her calling is to empower her students to find their inner guru. She offers kundalini yoga, meditation, sound healing, ceremonies, and energy healing to the LA and OC areas, NYC, and worldwide.
Sopurkh has been teaching for as long as she has been here on Planet Earth. She is a certified Kundalini Yoga instructor, sharing the authentic teachings of Yogi Bhajan for over 14 years. Rich in yogic philosophy, powerful kriyas, and deep meditative experiences, her classes are opportunities for expansion and awakening. Sopurkh enjoys the benefits of Kundalini in every aspect of her life, and is dedicated to helping others reach their true potential.
She is mother to Isis and partner to Dawna. The three live in Long Beach, CA where they have created two thriving raw food restaurants, Under the Sun Cafe and Rainbow Juices.
Dawna is the chef and co-owner of Under the Sun, Long Beach's first and only raw vegan cafe. She is a self-taught raw food chef who strives to create dishes that can be enjoyed by all.
Dawna moved to Long Beach after summer of 2008. In 2011, she met her partner, Chrissy, and shortly after they began their raw food journey with cold-pressed juice. Rainbow Juices opened in Downtown Long Beach in 2014, and Under the Sun opened next-door in 2017.
For Dawna, raw vegan cuisine is synonymous with how she wants to live her life: thoughtful, compassionate, growing and flowing with the seasons, ever-changing, unpredictable, and full of life and positivity. She serve food that satisfies the palate, that you feel good about eating, and that contributes to your overall well-being.
DAY 1 - SATURDAY 10/26
11:00AM - 11:30AM WELCOME. Arrivals & snacks.

12:00PM LUNCH.Greetings /logistics/ intentions/ lay of the land/ camp setup

2:00PM - 3:30PM RELEASING. Kundalini Yoga & Meditation w/Pritam Dhyan

3:30PM - 4:30PM CHAI. Snacks. Break. Explore. Nap.

4:30PM - 6:00PM REBIRTHING. Kundalini Yoga Sopurkh

6:30PM - 7:30PM DINNER.

8:00PM - 9:30PM CACAO CEREMONY. Kundalini Yoga w/Jivan Dev

10:30PM - 12:30AM SOUNDBATH

DAY 2 - SUNDAY 10/27
3:00AM - 4:00AM SOUNDBATH.

4:00AM - 7:00AM SADHANA.

7:00AM - 8:00AM CHAI.Shower. Rest.

8:00AM - 9:00AM BREAKFAST.

9:00AM - 10:30AM CHILL.Nap. Explore.

10:30AM - 11:30AM MEDITATE. 31 min Meditation and Shuniya w/Sopurkh

12:00PM - 1:00PM LUNCH.

1:00PM - 2:00PM HEAL. Quiet time.

2:00PM - 3:00PM 31min MEDITATE & JOURNALING. Pritam Dhyan

3:00PM - 4:00PM PACK. Snack.

4:00PM - 5:30PM DISCUSSION. Reflections. Develop personal sadhana. Aquarian Lifestyle Group Consciousness. Closing soundbath

5:30PM - 6:00PM CLOSING. Snacks. Departure.
LOCATION
Super X Ranch is a private get-away located in Pioneertown, CA established to cultivate inspiration.
Close to Joshua Tree National Park and in walking distance from restaurant/venue Pappy and Harriet's Pioneertown Palace, Super X Ranch is available for private events and workshops, filming, editorial photography, house rental, art gallery rental, and is a writer's and artist's retreat.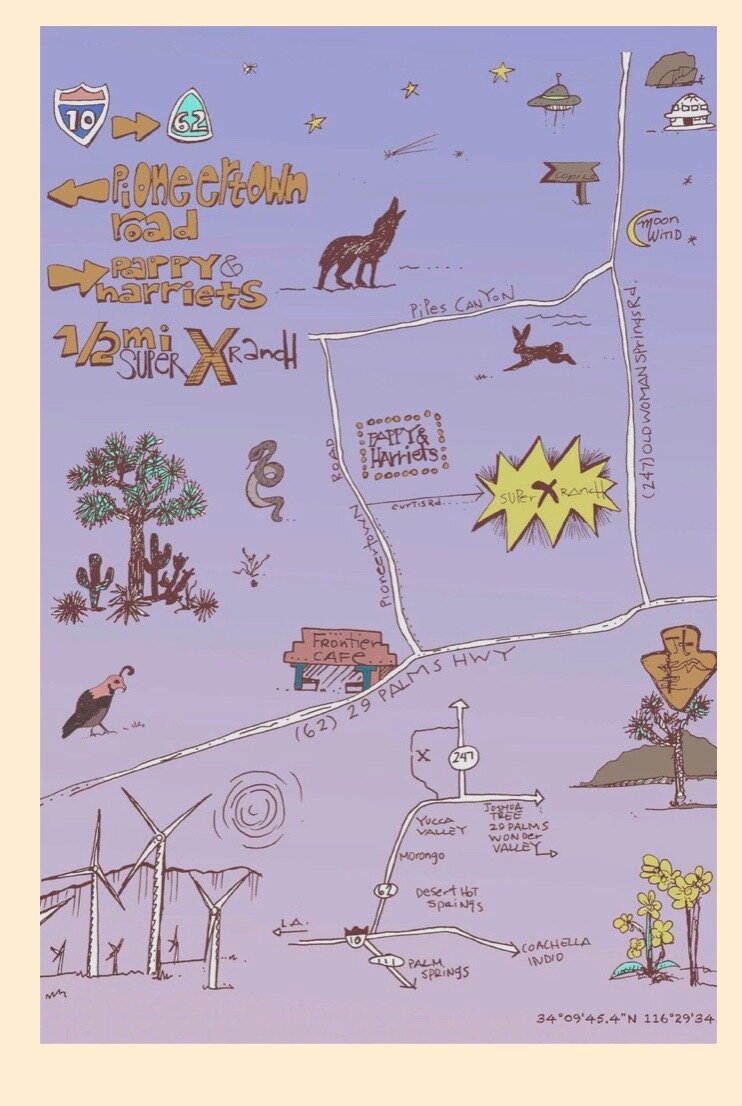 4940 Curtis Rd., Pioneertown, CA 92268

You may find us via the coordinates:34.162616,-116.492826
or check out the map for directions because GPS takes you on a MUCH LONGER route.
Kundalini Campout
AN OVERNIGHT KUNDALINI EXPERIENCE IN JOSHUA TREE HOSTED BY SOPURKH, JIWAN DEV, AND PRITAM DHYAN, Raw vegan food made with love by Dawna of Under the Sun
OCTOBER 26TH & 27TH 2019. Space is intimate and limited. Early registration is highly recommended.
We highly recommend payment via Venmo to @ramonasoriano. Cash or check can also be given directly to Sopurkh, Pritam Dhyan, or Jiwan Dev. We have a 2.9% transaction fee via web, so doing our best to support a low-cost, high quality experience for you!
Following the payment, we'll send through details of what to bring with you, and how to prepare. Any questions, please reach out to Jiwan Dev at satnam@kundalinisoul.com. SAT NAM.